Welcome to the Scottsdale High School Alumni
Website! Now in its 23rdyear.
News! News! News!
Do any Scottsdale High School alumni remember going out to 124th Street or 128th Street north of Shea Blvd to explore, party, target shoot, jeep ride, etc.? That area of the desert was a popular place for local "boondockers" to gather or party and we are hoping someone will remember hearing the story behind how the area got its name. We have two names: Lost Dog Wash and Dead Dog Wash. Does anyone remember those names?
We have one story from a woman who said the name came from the town's youth who would go out there and repeatedly saw a dog that looked lost, leading to the name Lost Dog Wash as a way to identify the location of where to meet. Another story comes from Jack Connelly, a horse trainer and instructor who had a barn on 110th Street south of Shea between 1964-1974. He shared with a student that the name was the result of a man who died in the area from heat exhaustion and his family said he had been out looking for his lost dog. We also know it was referred to as Dead Dog Wash but don't have any story for that name.
Any memories, stories, pictures, old high school flyers for parties would be helpful. We are hoping to capture the history behind these imaginative names before it is lost. Please contact McDowell Sonoran Conservancy volunteer Christine Kovach.
---
Scottsdale High CLASS OF 1959 MINI-REUNION COCKTAIL HOUR

(This event is also listed on Facebook)

Date and Time: Friday May 16, 2014, Cocktail Hour starting at 3, Los Olivos Restaurant, Scottsdale. Cash bar and food on your own (Los Olivos Happy Hour is 3-7)

A few 1959 Beavers will be attending the ASU Class of 1964 50th reunion on Wednesday and Thursday May 14 and 15th and it seemed to some of us that this would be a good time for an informal SHS/59 reunion. Not an actual 55th reunion although it actually is that year, but something less organized.

So Jan Nichols and I have set up a cocktail hour gathering at Los Olivos for the following Friday afternoon. If you have any questions or comments please call or send them to Steve at address below. It could be useful to know about how many people Olivos should plan for so please RSVP if you think you might show up.

Go Beavers!
---
Pictures! Pictures! We all like pictures.
Dave Hamory, Class of 1965, has posted pictures of the campus he took in 1987. It's a poignant reminder how beautiful our campus was! Take a trip down Memory Lane to Beaver Paradise 1987.
---
Scottsdale High School Alumni are welcome to post notices of upcoming reunions, events of any kind, personal notices, tall tales and personal rememberances of the school that is no more. To register just send an email to the Webmaster. Enjoy your visit!
---
Fight Song Lives!
Beaver Mark Marusich ('77) has created a midi file of the SHS Fight Song. I saved it as an MP4 file. It's a big sucker weighing in at 11 Mb, but if you've go the bandwidth it's well worth the download. Mark is the retired band director of Saguaro High School. Well done, Mark! Your efforts are appreciated my many.
---
Wanted: True Stories and Outright Lies!
Yes, the webmaster is desperate for some content. Any content. True or made up. You be the judge. You be the author. Tell the World your story! Did the cafeteria really serve meatloaf? Why were there no dogs within a mile of campus? Did the assistant principal give swats, or just smack the desk? Inquiring minds want to know.
Who Remembers the Tinker Twins water skiing on the canal and putting their car in the water?
(Turns out a lot of people do but they ain't talkin'!)
E-mail your story to the Webmaster.
---
Marsh provides a glimpse of life at SHS between 1963-1967.
Football coach doing a few too many "push-ups?"
Check out Tall Tales
---
I have a question, maybe you have an answer for me -- I have a pin which was given to me by a SHS student in either 1959 or 1960 -this student was on holiday with other SHS students in the South of France in a place called St. Aygulf. At the time I was not aware of the significance of a pin. Now it is over 40 years later and I wonder if the student in question, or his family, would like to have this pin. I didn't know where to start my search so you are the lucky person!Thank you. Teresa
(The following reply was received in June, 2007)
Not sure when you posted this, and not sure I'm the one you're talking about, but
some of your facts match some of my facts. I graduated from SHS in 1961. The
summer following graduation, I spend three months in Europe with a group of kids
from Scottsdale Hight School. We spent a particularly interesting time in the South
of France, in St. Agulf. While there we stayed in a student hostel, and spent days and
late nights on the beach, and in the beach bars. During that time, we met a group of
girls from England who were on holiday and staying in a hotel not far from our hostel.
The girl that I met up with was very beautiful, and we hit it off right away. I remember
some sweet times down on the beach! Eventually, we had to leave and I had to say
good-by to her. We promised that summer to write to each other. I went back to the
USA to start college in Southern California. This girl and I corresponded for some months
after that. I learned that this girl came to California, and I went to see her. I think she
worked for some big company somewhere in Los Angles. Unfortunately, that was the
last time I saw her. That was nearly 45 years ago!

Her name was Teresa!

Is that you?

Best,

C
(To respond to this message, send an email to the webmaster who will forward it to C)
And, now, the rest of the story:
Dateline: July, 2007
Lost and Found: after 46+ years is found again. An amazing story.
Guy goes to Europe and the South of France in 1961. Meets an English girl in a Riviera Beach Town, has an amazing week there with her, and then has to leave. Sad partings with no expectations of ever meeting again.
Girl remembers his hometown in Arizona, finds the Scottsdale High School website and leaves a Lost and Found message. A little more than a year later, guy sees the message and responds. They met again on the internet after 46 years. When all this started, they were in their teens. When they met again on the internet, they were in their sixties.
Again, thanks for what you do with this website. It has facilitated an amazing story, and hopefully will facilitate many more!
Amazingly yours,
C
---
OK, you asked for it. Here's a story. The parking lot. How many of you remember crossing the parking lot in the heat? Oh, yeah, that was a trip. Asphalt. 160 degrees. Shimmering air. No water. If you were REALLY unlucky you had math, English, Spanish then social studies. That schedule took you across the Scottsdale Sahara four times! I knew kids who weighed-in at 180 in the morning and went home at 120. Serious heat, folks. I took 8 periods of Biology just so I wouldn't have to make the trek. And my kids wonder why I can carve a chicken. Little do they know!
---The Webmaster
Story Number Two: Dress Codes
How many of you remember dress codes? Even now at work you probably have dress codes, Casual Friday or whatever. Back in the 60's there was a drive to stamp out mini skirts. The result were Granny dresses which were twice as sexy as mini skirts! Go figure.
Just for fun check out yearbooks from the 70's and you'll see hairstyles sported by the Faculty that were once banned for the students. And for you parents, what's the topic today? Dress codes!
Hmmm, I thought we solved that one.
---
In the We Don't Need Reminding Department, Brian Hanrahan, '62, sent in the following photo he calls:
"Coach says we might have to operate the scoreboard manually tonight."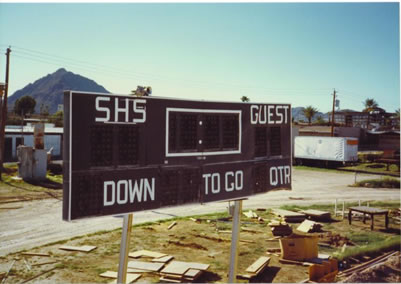 The demolition of SHS. Score: 0
---
Charles Latchem has the following recollection:
Some time between spring 1958 and graduation in 61, one of the guys who had a 57 Chevy (one of the Tinker twins?) was showing off by revving it up in the SHS parking lot. He popped the clutch and promptly dropped the drive shaft. End of show.
Charles A. Latchem
Attorney
Office of Regional Counsel - Region 19
Phoenix, AZ, VA Medical Center
(I'm sure we've all been there and done that - Webmaster